So I have an appointment with those Mac Geniuses tonight and we'll see what going on with my laptop. Until then I am relegated to taking iPhone photos, uploading them to tumblr, and then uploading them to photo bucket where I attempt to tag them. Like some neanderthal. Also the compute I'm using right now is so-so. I gets the job done but as far as photo quality on this computer I can't actually tell if photos look good or not.
If they decided to keep my laptop hostage I will still try and post. But unless it is a proper review for something that was sent to us I won't be taking photos with a real camera.
Well yesterday I really wanted to do some nail art but I had no clue what I wanted to do(as usual). My brain immediately was drawn to these colours(I would name them but all the bottle are in another room and I don't have it in me to get them atm). In the end I ended up blobbing them together. My only problem was it bubbled a bit but it's not that noticeable so I'm not going to complain.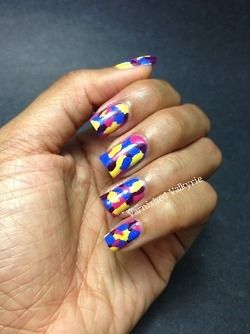 Easy nail art. My favourite!